Minimising Risk

Traditional method using a pager
The traditional method of paging only sends an alert to a device. Actual ownership of the device cannot be proven as these pager devices are frequently passed to another individual at handover. In addition, there are situations, particularly in an 'out of hours' scenario, where pagers are left in lockers or taken home. These pagers will continue to receive unanswered alerts and this compromises patient safety.
Effective Clinical Governance
All iBleep calls are sent to a unique individual, a clinician that has logged onto iBleep at the start of the working shift and this individual will log out of iBleep at the end of that shift. There is no possibility to send a call to an unmanned device. If an individual fails to log out at the end of the shift, there are processes in iBleep to automatically log out that person and a facility for other team members to intervene in this process manually.
A doctor completing a shift will hand over all remaining unfinished work to the incoming clinician of a similar status or specialty. This is part of the iBleep audit trail. Failure to hand over uncompleted calls will return them to the ward and will provide evidence that a doctor has failed to complete the handover process correctly. These calls will then be re-assigned by the ward or by an automated process that is built into iBleep and the data generated from these actions will become part of the unique call data trail.
The call at the top of the screen is the one that I do first - it's so simple.
Each iBleep call that is assigned to a clinician will sound an audible alert on the device. These alerts change in tone and frequency according to the type of call. These alerts will continue until the call is read. There is a mechanism in iBleep that alerts other members of the team in the event of a call remaining unread for a period of time. This period is defined by an organisation and will be governed by the priority of the call. For example – a red call that remains unread for 10 minutes will be escalated to a senior clinician.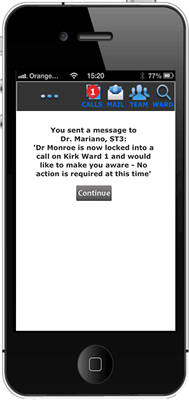 I'm busy, iBleep allows me to lock into a call and if there's anything else that's as important - the rest of the team can help me with it.
This would occur when the doctor began a procedure while bedside with a patient that absolutely excluded him/her from attending to other calls that were perhaps of a higher priority and requiring immediate intervention.
The act of locking into a call will raise an automatic alarm and other members of the team are alerted. This mechanism protects both the clinician and reduces the risk of a call being sent where the doctor had no possibility to attend.






these factors bring important principles into the communication process – accountability and responsibility for calls that are received. It is not possible for a clinician to remark that a paged alert was not received. This is a significant failing of the traditional pager. The iBleep system provides absolute detail why the clinician is needed and provides this without needing to telephone to a ward for more detail. The ward is also informed that the clinician is aware of a call.
The process could not be simpler for a clinician but it is at a premium – that evidence has been gathered that will enforce accountability for each and every call that has been assigned. Accountability and responsibility are widely accepted as key factors in good clinical governance.