Prioritised Communication

Dynamic two-way, real-time communication using the latest mobile technologies.
Robust Task Management

strengthening the OOH team into one cohesive unit where patient care improves as a result.
Unprecedented Data Capture

a paradigm shift in medical communication and the degree of data capture is unprecedented.
Cloud Based

breaking traditions for IM&T depts, requiring no installation or support and only minimal local administration.
A New Era of Clinical Communication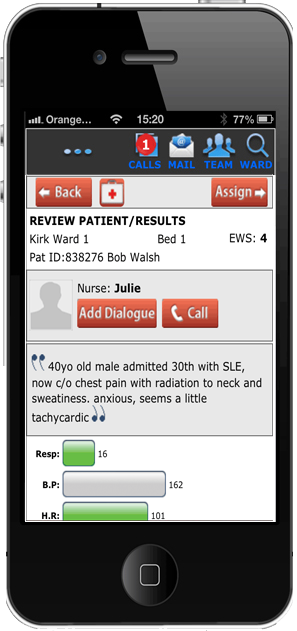 The iBleep system is a 24hr paging solution which is particularly effective during the 'Out of Hours' period and during extended weekend working where there is a requirement for all calls to be filtered through a central co-ordinator.
iBleep promotes team working with secure task management; as a result, patient risk is eliminated and there is a significant reduction in work related stress and alarm fatigue, particularly for the junior doctor.
Our specialty-based call escalations and unread call alerts help to eliminate risk and ensure that a priority call can never be left unattended.
iBleep allows an organisation to implement the roles of specialist practitioners to cover blood and fluid related work and this reduces the incidence of this type of work being sent to junior doctors, leaving them with more time to spend with the patients that need them the most.
Key Features:
Call Locking and Lock Alerting
Unread Call Alerting
Specialty-based Prioritisation
Specialty-based EWS Escalation
Full Call Pathway History
Ward Handover tools/Medical Handover tools
What Trusts are Saying
iBleep data assists targeted service improvement initiatives. One 800-bed NW Trust found that iBleep data highlighted that over 35% of OOH work was being left over from the day, their data allowed them to identify this and ensure that it was attended to as required and not left until the start of the OOH period.